Placing your order
Please make your selections and add them to your basket. Then proceed to checkout to review purchases and confirm your order. Upon receipt of your order we will contact you to arrange delivery, and any other requirements.
Putting The Customer First
We have dedicated teams of personnel servicing your entire order from start to finish. We have an extensive range of interesting and diverse plants whether that be indoor or outdoor. We recognise that retailers do not necessarily want to buy full trays/outers of single varieties. In order to offer you the widest selection possible we can provide mixed trays of different varieties in similar sized pots. This gives you the opportunity of selling a much wider range of plants without having to invest in single variety bases.
As part of our service we can also offer bespoke collections suitable for your store environment, or your customer needs. We can also make recommendations on popular selling lines in the market.
After Service:
Customers often have technical questions which can be difficult to answer. We can offer further technical advice to support your team or customer. Please email or pick up the phone!
As a company we are used to supplying a complete service whether that be care carding, labelling, boxing etc. We are now in a situation of being able to offer a bespoke care label with crop photos, which has space for adding your specific brand, barcode, retail price and care instructions, written by the nursery managers taking care of your plants. These care instructions help the end consumer and also store/warehouse management. All labels are physically attached to pots and are recyclable.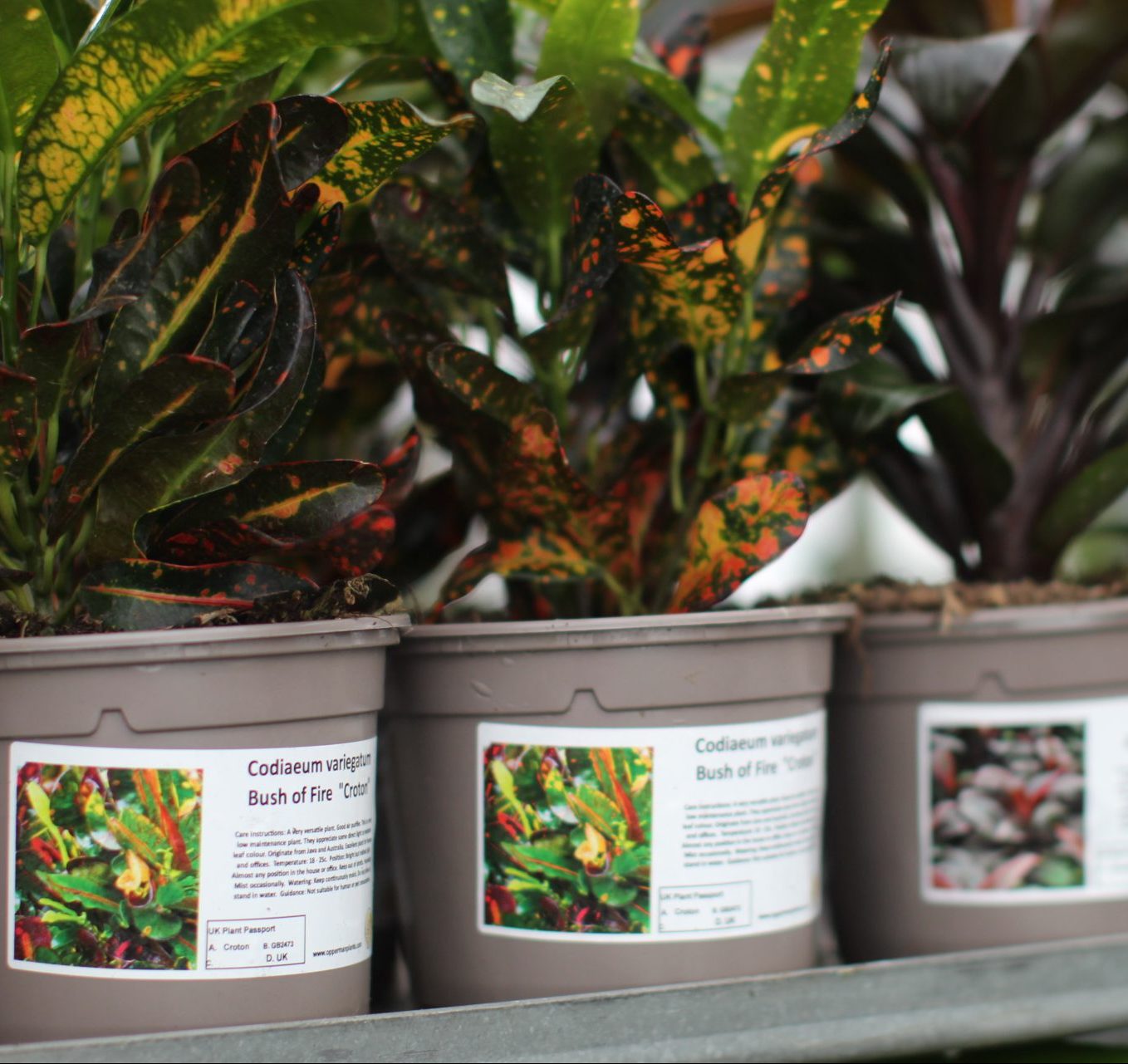 Opperman Plants works closely with reliable distributors across that UK who are specialists in delivering horticultural produce. The drivers are friendly and approachable, and trained in safe loading/unloading procedures, and equipment/paperwork management. The vehicles they utilise are temperature controlled which are ideal for indoor houseplants during the winter months.
As a guide please find below a grid which indicates trolley and trolley shelf consolidation by pot size.
| | | | | | |
| --- | --- | --- | --- | --- | --- |
| POT SIZE | UNITS PER TRAY | TRAYS PER SHELF | UNITS PER SHELF | TRAYS PER TROLLEY | UNITS PER TROLLEY |
| 9cm | 18 | 5 | 90 | 35 | 630 |
| 10.5cm | 15 | 4 | 60 | 32 | 480 |
| 13cm | 8 | 5 | 40 | 30 | 240 |
| 15cm | 6 | 6 | 36 | 30 | 180 |
| 2 Litre | 23 | 1 | 23 | n/a | 69 |
| 3 Litre | 21 | 1 | 21 | n/a | 42 |
| 4 Litre | 18 | 1 | 18 | n/a | 36 |
| 5 Litre | 17 | 1 | 17 | n/a | 34 |
| 7.5 Litre | 10 | 1 | 10 | n/a | 10 |
| 10 Litre | 10 | 1 | 10 | n/a | 10 |
| 15 Litre | 8 | 1 | 8 | n/a | 8 |
*These measurements are average consolidations. They may fluctuate. We will communicate with you to get the best trolley configuration